Frequently Asked Questions
What are the new Public Pool Regulations affecting Big Splash Waterpark?
You can download the 2018 Public Pool Regulations update notice.
---
Can we bring our own coolers?
Bingemans offers concessions that serve a variety of items, such as pizza, hamburgers, snacks, ice cream, as well as Boston Pizza (which will deliver to the Big Splash patio).
We do permit small coolers (that one person can carry) with food and beverages into the park, however coolers are not to exceed the maximum size of 8.5L or 23.6" x 28.7" x 32.8".
Coolers are not allowed inside the FunworX building. Coolers will be inspected for glass, sharp objects and alcoholic beverages which are not permitted. Prepared foods (such as fast food from outside vendors) are also not permitted into the park.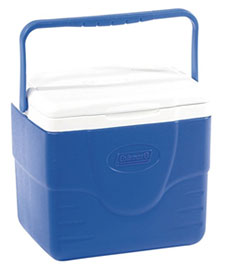 ---
Are there any restrictions for the various activities?
Yes, the following activities have restrictions:
The Pipe Slides, Torpedo Bay and Boomerango - Minimum height of 48" tall, and must be a strong swimmer. No double sliding, no water wings, and no lifejackets.
Full Throttle - Minimum height of 42" tall, and must be a strong swimmer. No double sliding, no water wings, and no lifejackets.
Cyclone - Minimum height of 48" tall, and must be a strong swimmer. No double sliding, no water wings, and no lifejackets.
FunworX 3-level Playstructure - For children 12 and under. Socks must be worn in the Playstructure at all times.
Ropes Course - Climbers must be at least 45lbs and at least 6 years of age.
Torpedo Bay and Full Throttle are designed with run outs, meaning that riders do not enter a pool at any time.
The Cyclone free-falls into a landing pool and is therefore not recommended for novice swimmers.
---
Can we use any part of your park for our own picnic/bbq?
Yes, guests may use picnic tables located outside of the park near FunworX for picnic lunches (no BBQs). All picnic shelters in the park are reserved for pre-booked group events through our sales office. Bingemans is a privately owned park and anyone attempting to use these areas of the park for their own unauthorized event will be asked to leave the park, or pay a rental fee.
---
If I'm a Season's Pass holder, how am I informed of various pieces of information?
We forward monthly newsletter through e-mail to our season pass holders. Please sign-up for our newsletter or e-mail us your address.
---
Are inflatable devices allowed in the waterpark?
No.
---
Are lifejackets allowed in the Wavepool?
Yes, but they must be CSA Certified. Lifejackets are available on a complementary basis, however a deposit is required. Please contact Bingemans for more information.
---
I am only coming to the waterpark to watch my children, do I have to pay?
Yes, you have to pay the normal rates. We apologize for any inconvenience, however staff members are not authorized to alter or change any part of this policy.
---
What happens if an activity is closed?
Bingemans reserves the right to close any activity at any time, without issuing any refunds.
---
Are pets allowed?
Pets are allowed into the park, but must be on a leash. Pets are not allowed inside the waterpark, buildings or activity areas.
---
Are there refunds on purchased passes to Big Splash?
Sorry, there are no refunds for any reason and passes are not transferable.
---
What is your rain day policy?
Bingemans does not have a rain day policy. Customers must use their own discretion when purchasing passes on days with poor weather conditions. Wristbands are only valid on the date of purchase, and can't be exchanged or refunded. Online tickets can be used any day during the operating season for which the ticket is valid for (conditional on a valid expiry date) as long as they have not yet been redeemed for wristbands. SORRY, NO REFUNDS.
---
Do you have seating in the waterpark?
Yes, we have several areas with seating, as well as non seated areas. We do not guarantee seats for all guests.
---
Do you provide any special discounts?
All discount programs will only be available through the Big Splash monthly newsletter, which you can subscribe to free of charge.
---
Is there an AED on site?
Yes, it is located inside the FunworX building. All of Bingemans' Lifeguards and Management are certified and trained on how to use the AED system.
---
What happens if I lose my Season Pass photo card?
You need to come to the FunworX admissions where we will deactivate the lost card and produce a new card for you. There is a $5.00 fee for all card replacements.
---
How can I find out more about waterpark safety?
You can download our Waterpark Safety brochure (PDF: 281KB)
---
Are your attractions accessible for guests with disabilities?
Several areas of our facility are accessible by wheelchair including but not limited to: FunworX Playstructure, Big Splash Waterpark, Campgrounds (including specified yurts), and the Conference Centre.
Any guest with a disability who is unsure if they may meet the regulated ride requirements for one of our activities at Big Splash or FunworX, please contact us in advance to review each of our attractions to allow us to assess what accommodations may be made to assist in maximizing your visit to our facility.
Please contact in advance mplayfair@bingemans.com or call 519-744-1555 ext. 2262.
---
Do you accept the Personal Attendant for Leisure (PAL) Card?
Yes we do. More information.
---
What type of security do you use for your facilities?
This varies at different times of the year and may include any one or a combination of alarm systems, licensed security patrols, various lighting systems, etc. As well, some areas of our facilities are equipped with video recording systems which may also provide live monitoring and alerts from time to time. Guests are reminded that they are responsible for their safety at all times, and if any assistance is needed, please see one of our staff or management members at any time. The safety of our guests and employees is of the utmost importance to us as we progressively increase our systems and procedures. For more details of these policies, written requests may be directed to the following email address, bingeman@bingemans.com or contact our main reception during standard office hours.
---
Do you have a checklist of recommended items to bring to the waterpark?
Yes, we have created a checklist of items that you may wish to bring to help ensure that you are prepared for your day
---
Can I smoke somewhere?
Yes, we have areas at each of our facilities for a designated smoking area which has been designed to meet the new provincial requirements. Please note that in these identified areas, that the regulations state that there cannot be any food, beverage or alcohol of any kind in these areas. If you have any questions, please speak to one of our management or staff for the location of these areas.
---
What is the minimum age for dropping off children?
Children under 13 must be accompanied by an adult or guardian at least 18 years or older.