Photo Credit: Gary Evans Photography.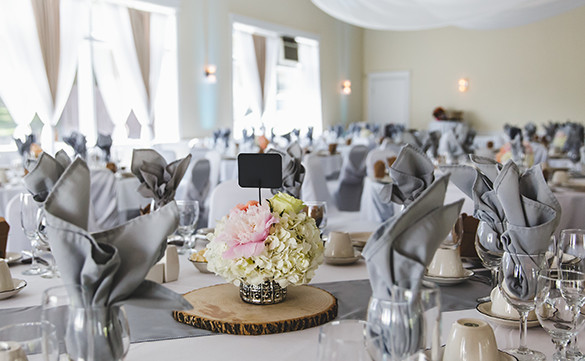 SOMETHING FOR YOU
Bingemans wants to help take the stress out of your wedding day. Let us do all the work by choosing one of our popular all inclusive packages.
The following packages may be combined in the following ways:
Inclusive food only package

Inclusive food and alcohol package

Inclusive food and vendor package (Cake, DJ and décor)

Inclusive food, alcohol and vendor package
(Cake, DJ and décor)
All of Bingemans' packages include the following items:
Wedding enhancements - compliments of Bingemans

Mirrored tile centerpieces with votive candles

Placement of centerpieces provided by couple

White, black or ivory table linens

Couple's choice of napkin colour

Skirted head table, gift table, DJ tables and guest book table

Placement of your wedding favours

Reserved table numbers and stands

Cutting and plating the wedding cake

Complete room set up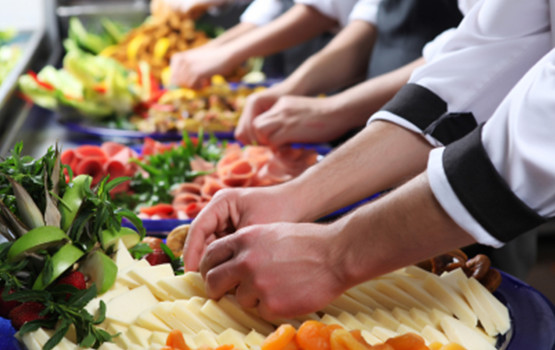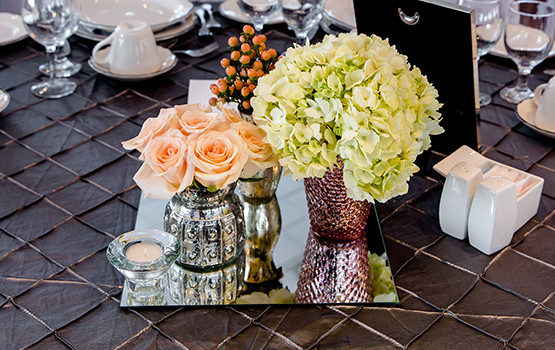 Photo Credit: Gary Evans Photography.
Bingemans ALL INCLUSIVE packages include the following items in addition to the items mentioned above:
Room rental

Hot and cold hors d'oeuvres - passed by staff

Late night table with coffee and tea

All service charges

Alcohol Package (additional charge)

Wine selection with dinner - choice of one red and one white per table

Host bar available one hour before dinner, closed during dinner, open after dinner for 4 hours.
We are pleased to offer a package that makes planning a wedding, a piece of cake. This package includes a cake, DJ, and décor from Bingemans' trusted suppliers.
Cake - 3 tiered cake with basic detail

DJ - 8 hours of service

Décor - Backdrop, head table and chair covers
"It was a wonderful day all around. Bingemans staff and service was great! The food was top notch! A lot of people raved about the food and presentation of the food."
- Mike
"The wedding was great and it was a beautiful day overall with good friends, family and great food! I think that everything was pretty much on schedule. The food was excellent and hot! I heard only compliments and one of the guests was more than thrilled that Bingemans will be catering for her wedding. Thanks again for everything and we'll be in touch soon"
- Tracey
"Brett and I wanted to personally thank Bingemans for making our wedding so spectacular! What a meal! I know how much effort and hard work went into making our wedding meal incredibly delicious and on time. On our end, the meal was flawless, and our guests with dietary restrictions were very appreciative of the attention to detail you showed them. From first course all the way to dessert, we loved it all. Our guests have not stopped talking about how delicious our meal was, and how nicely presented everything was."
- The Croft's
"I wanted to say thanks again for all the work Bingemans did for us, your staff kept us calm, informed and excited all at the same time. Your staff do an absolutely wonderful job for Bingemans and I will recommend you as much as possible! Both Nerko and I were so happy to have Bingemans staff there through the whole process, giving us advice and ensuring everything ran smoothly."
- Chelsea and Nerko